---
"Fresnel" McCann
by Dr. Jim Codington, DVM (aka "Dr. Jim")
---
"Fresnel" McCann enjoys dog parks, walks, and roughhousing with his younger "sister," "Lily." But, life hasn't always been idyllic for the nearly 90-pound black lab mix. Fresnel's overcome some "ruff" challenges the past 11 years.
---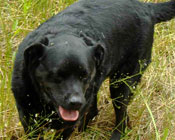 His life got off to a bumpy start on Highway 99 near Fresno.
After seeing another driver toss a box and a carcass out of a truck, a good samaritan pulled over to investigate. The box contained Fresnel and his eight siblings. The carcass was the puppies' mother. Fortunately, the puppies survived and the person who abandoned them and shot their mother was arrested.
When he was four months old, "Fresno" was adopted from Second Chance Rescue by Robert and Kandi McCann. The McCanns renamed Fresno "Fresnel"—a type of lens on lighting equipment.
Seven years later, right before Christmas, Fresnel encountered a second roadblock.
After discovering odd lumps under the skin on Fresnel's right flank, the McCanns brought him in for an exam. A needle biopsy revealed Fresnel had cancer throughout the connective tissues of his skin and muscles.
After cancer surgery, Fresnel began chemotherapy treatment. When new cancer masses appeared one month after surgery, I started Fresnel on Chinese herbs. His appetite and energy quickly improved.
---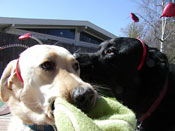 "Within 48 hours of starting Chinese herbs, Fresnel started regaining energy. My husband and I knew for sure he was feeling better when Fresnel jumped on our bed and got frisky with Lily," chuckles Fresnel's owner Kandi McCann. Pictured, from left, are Lily and Fresnel (aka "Fres").


---
By March 2008, Fresnel's cancer masses were gone but he was too sick to continue chemotherapy. After discontinuing chemotherapy, I had Fresnel continue on the Chinese herbs and began acupuncture treatments—which he tolerated well.
Between March 2008 and late 2010, Fresnel experienced reoccurrences of cancerous masses in his connective tissues. But, he continued to thrive due to the Chinese herbs and monthly acupuncture treatments.
In January 2011, an X-ray showed Fresnel had developed cancerous lesions on his chest. Despite this finding, Fresnel is doing well on Chinese herbs, the anti-cancer supplement Onco Support and intermittent acupuncture treatments.
January 3 of this year marked four years since Fresnel's cancer diagnosis. He's happy, has a healthy appetite and remarkable energy for an 11-year-old dog who has cancer.
The past three years, Fresnel's walked with Kandi in the annual Relay for Life event. And, through Bark for Life, Fresnel and Kandi raise awareness about canine cancer. Fresnel continues to defy the odds with the help of Chinese herbs and acupuncture—and the devoted love of the McCanns.
---
---
From Fresnel's owner—
"Dr. Jim is the only vet I know who comes close to being like James Herriot. His compassion and use of alternative therapy treatments is amazing. I believe my dog, Fresnel, would not be alive today if it werent for Dr. Jim and the friendly, family-oriented staff at The Country Vet. I highly recommend them."
—Kandi McCann
---
---
"Chelsea" Jawor
by Dr. Jim Codington, DVM (aka "Dr. Jim")
---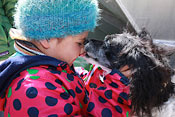 Chelsea is an honorary canine member of Nancy's Club. Members of the nonprofit Club, who are living with cancer, enjoy monthly cruises with their loved ones on the San Francisco Bay. "Chelsea likes the cruise because she loves kids and boats," says her owner, Wendy Jawor.
---
Over a year ago, patient "Chelsea" Jawor was facing death.
Today, she's thriving and surviving.
Owner Wendy Jawor first brought Chelsea, a 12-year-old spaniel mix, to our office in April 2010. Chelsea had been having bouts of reoccurring diarrhea. Three months after Chelsea was successfully treated, she began bleeding from her nostrils.
X-rays and biopsies showed Chelsea had a type of nasal cancer that usually ends a patient's life within three months. A CAT Scan at UC Davis Veterinary Hospital revealed the tumor was at the back of Chelsea's sinuses—nearly penetrating her brain.
Surgery was not an option due to the tumor's location, and radiation therapy would be expensive and ineffective in such a severe case. In addition, the radiation treatments would require Wendy to leave Chelsea at UC Davis Veterinary Hospital for three weeks—or make daily round trips to drive Chelsea to Davis.
Since Wendy was concerned about subjecting Chelsea to painful radiation treatments that would have little impact, I immediately started Chelsea on a treatment plan. The comprehensive regimen included Chinese herbs, homeopathic remedies, immune-boosting supplements, anti-inflammatories and antibiotics.
In June, an exam revealed Chelsea's tumor had grown some. Since then, she's been receiving injections of Iscador—an immune-boosting cancer drug derived from mistleltoe. Since being treated with Iscador, Chelsea feels better and her symptoms have diminished.
July marked a year since Chelsea's cancer diagnosis. Today, to the delight of Wendy, Chelsea is perky, has a healthy appetite and enjoys a 3.5 mile walk five days a week. Sweet Chelsea is a true miracle.
---
---
From Chelsea's owner—
"I know without a doubt my dog, Chelsea, would not be alive today if it weren't for Dr. Jim. I recommend him to everyone who has pets and needs a referral for a good vet. Dr. Jim is an amazing, wonderful vet."
—Wendy Jawor
---
---
Dominique's Tale
11/12/97 - 6/1/09


She was a sweet 11 & 1/2 year old Cocker Spaniel with a gentle soul and a fighter's spirit.

This is her story.

Dominique's journey towards finding us began in October of 2008 when her guardians noticed a lump. After a series of exams and consultations with surgical specialists, they were told that the lump was inoperable due to its location and the extent of its involvement in her abdominal wall. Faced with the helplessness of not being able to do more for their dearest friend, her guardians began to pursue alternative treatments. In their quest, they came across The Country Vet website and decided, along with Dr. Jim Codington's encouragement, to try a course of Chinese herbs and acupuncture to slow the tumor's progress and ease her discomfort.
As months passed, the tumor slowly grew and soon Dominique had trouble walking. She was brought in to see Dr. Jim one last time, her valiant spirit seeming to dwindle. In the exam room, her eyes began to twinkle and it soon became clear she was not yet finished. Her guardians asked Dr. Jim if he might agree to operate, as either way it seemed as though her situation was dire. He agreed to try, though with a heavy heart. Little Dominique's heart stopped three times on the table as Dr. Jim worked meticulously to remove the 13-pound tumor. After 3 days in intensive care and receiving multiple blood transfusions, Dominique left the hospital and once again found herself in the arms of those who had lovingly watched over her life and never left her wanting for anything.


Miracles happen. Dominque's story is one of few those of us in the veterinary field are blessed to witness. Choosing a life involving animals, we are always aware of the joys and sorrows that journey can bring. We are also driven by the rewards. Dominique's courage has touched all of our hearts. In her younger years, someone once took notice and marveled at how brilliant the strength of her heart was. That brilliance continues to shine today and we are all grateful for having been part of her journey.


Click here to see the tumor. (Warning: Graphic!)




6/1/2009

Dominique's journey on this earth came to an end today.
We will all remember her sweet demeanor,
amazing courage and unparalleled perseverance.
Our hearts go out to her loving parents, Pat and Art.
We miss you already our little black & white friend.